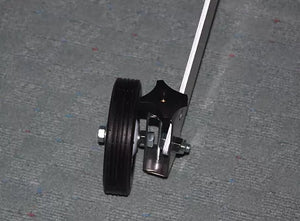 GardenProTools
Sweeper Wheels Kit Angle Bracket Accessory (ONLY)
Regular price
$59.99
$0.00
Modify your Standard Sweeper Wheels Kit to an Angling Sweeper Wheels Kit by purchasing a set of angle brackets to add on. 
The angling wheel brackets allow you to windrow debris off to the left or right side, making lighter keep ups fast and easy!!! If you are interested in upgrading your existing Sweeper Wheel Kit, please message us as the angling wheel brackets can be sold separately.   
One pair of angle brackets ONLY, standard wheel kit not included.  
FREE SHIPPING in the Lower 48 States of the United States!!!
---
Share this Product
---
---
Related Products